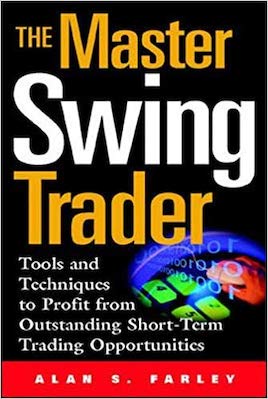 The book begins with trading cycles, time, volume, markets in general. Alan Farley writes about cross-market analysis, how markets react, correlate and how to use it in your own trading.
The author covers most of the classical charting and technical analysis topics and indicators, like candlesticks, support-resistance, moving averages, Bollinger bands, convergence-divergence, dow theory, the big picture etc. Not much unique about it, but I don't want to underestimate this book – it's necessary to get the basics right.
There's a separate chapter for price action: breakouts, reversals, bottoms, highs, rallies, tops, trends, patterns etc. He goes through step by step how to create trading strategies, sell short, day-trade, manage risk, keep records etc. The book includes the most popular indicators like MACD, RSI, Stochastics, OBV, Fibonacci etc.
You should check out the long summary of this book, because it really covers all there is about technical analysis in my opinion. It's like a lexicon on technical trading. After reading this book you'll start to notice how the content and general wisdom starts to repeat itself throughout other books on trading.
I'm glad I found this book as I have enjoyed educating myself about the basics of swing trading and technical analysis.
The Master Swing Trader by Alan S. Farley book link
Share this post