People enjoy taking profits so much. It just feels so good to lock in that gain. You feel like a genius and you can tell everyone that you made money in the stock market. This can be a bad, bad behavior. Realizing winners too early is one of the main reasons traders don't become profitable overall.
What I've come to understand more and more in time is that a trader needs to be bold with profits. You don't want to risk too much of your core capital but you need to tolerate risk with your open profits so they can become larger. Taking small profits is a loser's game because they won't cover your losses when things aren't working out. It's part of the bigger picture game that you don't focus too much on the short-term results.
I don't rush to realize gains, I don't trade the PnL figures nor take some off because I have a nice open profit. I let my profits run until either the stop or the target gets hit. Short-term swing trading will frequently kick me out of a long-term trend, long-term trend trading will give back some profits when there's confirmation of it possibly reversing. That's how it is and my job as a trader is to find balance between the two, and put odds in my favor using some trading rules.
Here's an example of a long-term trend trade I've been holding for what's even a long period for me. I went long GOOG in May last year (green arrow) when it became a "risk on" environment according to my trading rules. I was really bold with my profits in September (orange parabola) when price was very near to my STP loss and almost getting out breakeven after the position had been up +25% just few weeks earlier. Since then GOOG has been making higher highs and higher lows which is the characteristics of an uptrend. Today the position is up roughly +100%.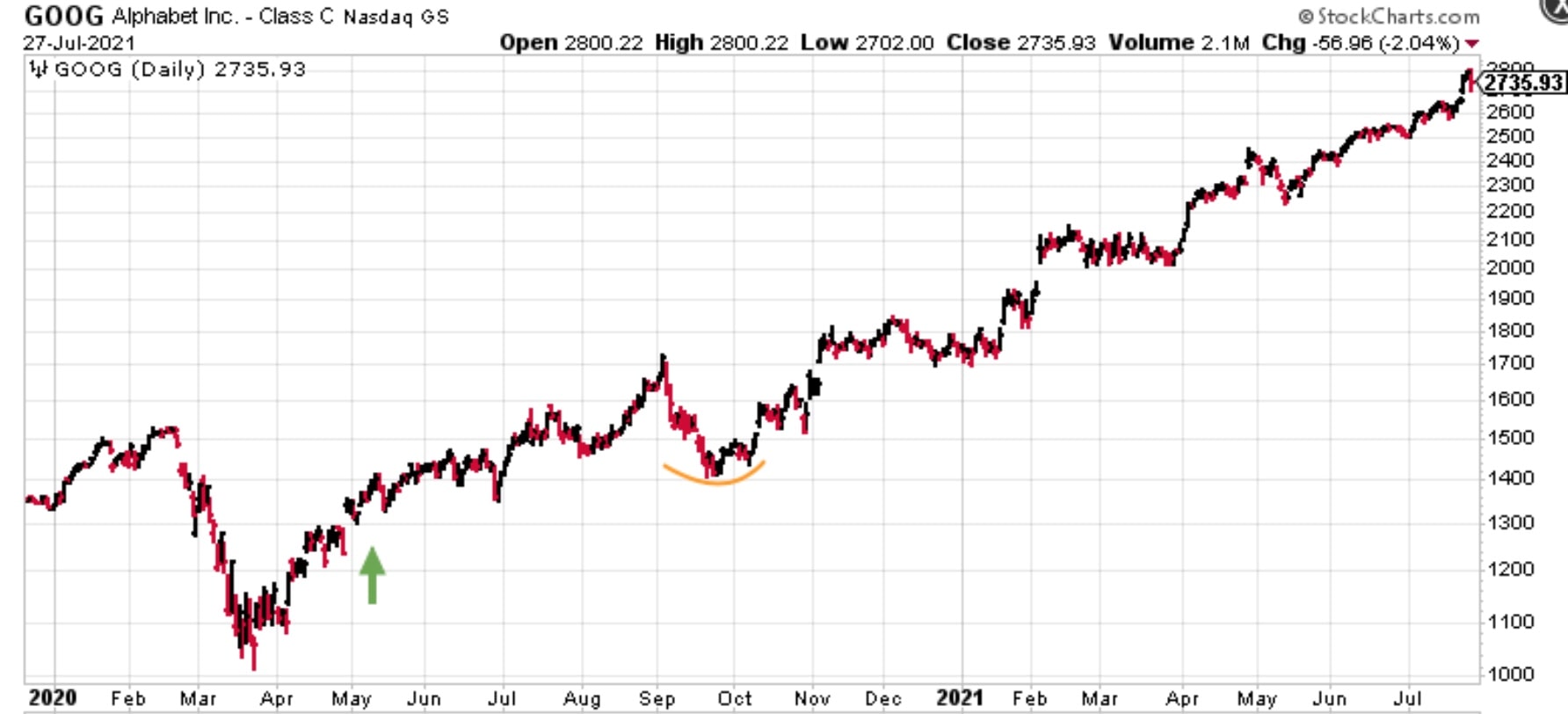 I'm not trying to look a genius here. I didn't know GOOG was going to work out like that and I've been taking small losses along the way in other names. Due to the fact that losses are small and cut short quickly, I don't have any exciting charts of those. Now GOOG can reverse and fall anytime and at some point it will. Meanwhile I'm sticking to the main trend which is up until proven otherwise.
On the other hand, be afraid of your losses. I quickly cut a loser short when the trade is not working. Holding on to losers is even worse than taking small profits, but if you do both it's a matter of time until you're kicked out of the game.
Lesson Learned: Be bold with your profits.
Share this post