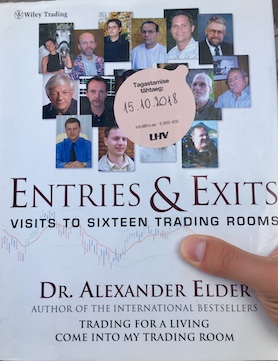 Since I've been following Dr. Elder's work closely, I got one of his books from the library, Entries & Exits – Visits to sixteen trading rooms. There are many interesting traders interviewed in this book including Gerald Appel, the inventor of one of the most popular indicators MACD; Kerry Lovvorn, the co-founder of SpikeTrade.
It is a good book to see how different styles and strategies traders can have. Traders interviewed share couple of their trades with their original chart setups, first entry and then exit which are shown on a separate chart so you can think along if a trade is going to work out or not. Dr. Elder then shows these setups (entries and exits) on his own chart setup with commentary about the decisions.
I have enjoyed the work of Kerry Lovvorn on SpikeTrade, also featured in this book. Kerry is a very organized trader and has a more systematic approach to the markets. He is also more fond of trend-following type of trading. I have learned a lot from him.
This book, as Dr. Elder's other books, has a workbook, too. So after reading it you can take exercises on that particular content. Overall, I enjoyed reading the book even if some of the styles featured were irrelevant to my trading.
Entries and Exits by Alexander Elder book link
Share this post