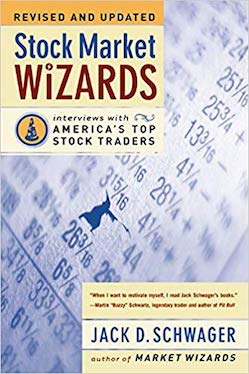 This is the third book of the Market Wizards series from Jack D. Schwager and it's only getting better. Stock Market Wizards was published in 2001, so it's getting more relevant to today's markets.
Mark Minervini, Stuart Walton, Steve Watson, Steve Cohen, Dana Galante and many other America's top traders are thoroughly interviewed in this book. I've been following Mark Minervini's work online and tho I like his content, he seems to put too much effort on selling his trading education and signals, which I think can be questionable. He has definitely been successful in the markets, but as they say.. "You are as good as your last trade." Selling trading education is probably a good business, too.
What I found valuable in this book:
Cut down risk if on a losing streak and add risk if hot with the market.
Have a position size so small that you don't feel it even worth the time.
Know the overall market conditions and know the risk you're taking with it. All setups are not equal, play the ones with better risk to reward.
Conscious and subconscious minds are two different worlds. Traders often face difficulties cause their subconscious thinking about the market is something else.
The amount of gain is more important than the number of winners.
Discipline and following the trading plan is crucial to success.
Having read three Market Wizards books now, I've started to understand more what the mutual behaviors among the top traders are, how they think differently etc. I'm planning to read the fourth book Hedge Fund Market Wizards soon.
Stock Market Wizards by Jack D. Schwager book link
Share this post