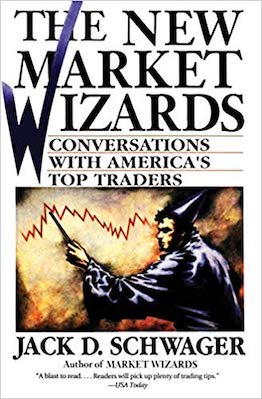 The second book of the classical Market Wizards series from Jack D. Schwager. It was first published in 1992 and includes interviews with the America's top traders.
William Eckhardt, Bill Lipschutz, Randy McKay, Stanley Druckenmiller, Victor Sperandeo, Gil Blake, Richard Driehaus, Tom Basso, Linda Bradford Raschke, Blair Hull and some other great traders are featured in this book. I have especially enjoyed the work of Tom Basso and Linda Raschke from other sources as well. But to listen to these top traders speak about  their businesses in the early '90s is very educational. It doesn't give you exact answers what to do in your own trading and I don't think it even should, but you will come to realize what are the common behaviors of the best and start generating ideas for yourself.
Some of my key takeaways from this book are:
Many suggest to not limit your gains but it seems to be valid for trend following methods (deciding when the trend is over, trailing stop).
If you have a game plan for the worst that can happen, you won't be negatively surprised.
Desire, discipline, commitment, patience, independence, risk control, acceptance of losses.
Every trade, a win or loss is just a single trade out of the next thousand, therefore with irrelevant importance.
All the best traders seem to be original and unique in their trading, means they do not try to replicate someone else's business but come up with their own strategies.
Jack Schwager does a great job on interviewing the America's top traders in this book and while you may not get any specific methodology out of it, I recommend to read it to understand better what the pros are doing.
The New Market Wizards by Jack D. Schwager book link
Share this post