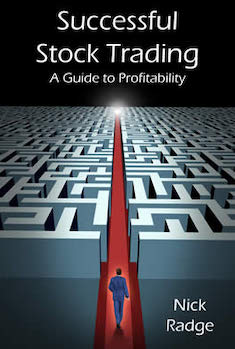 Nick Radge is a trader from Australia with 35 years of experience. He's been featured on many podcasts and I have studied his materials. Successful Stock Trading is an e-book published in 2012.
Some of the things I have learned from Nick:
Higher avg. win/loss ratio is more important than win rate. This can be done with tighter protective stops. Don't think of the win rate, there's much randomness in the markets and 50/50 like a coin toss is normal. Just keep winners bigger than losers.
Once you have an edge with net positive expectancy, the more trades you take the more profit you will generate. This is why HFT is so profitable even with a low % edge – the law of large numbers (like a casino). Mind the fees!
Initial risk can be lowered with low-risk and partial entries. Let's say you enter in 4 parts, initial risk being only 1/4, when price goes in your favor by X amount you add another part and move STP to breakeven. Then use trailing STP to ride the trend.
You need to manage risk – both risk per trade and risk per overall account. Even 50/50 win rate can have 10 consecutive losses in a row, a coin toss will rather often produce 5 heads or tails in a row.
You need to develop and test a systematic trading approach with high avg. win/loss ratio, win rate around 40% is fine and then execute this system as much as possible. Mind the diversification of how many positions at a time for example.
It's not a long e-book but covers some good insights about robust systematic trend trading.
Successful Stock Trading by Nick Radge book link
Share this post