Better System Trader Podcast is founded by Andrew Swanscott, a systematic trader in Melbourne, Australia. He interviews traders from different backgrounds and approaches to markets. I have recently finished listening to all of the 164 episodes.
In August last year, I started to notice my trading style had been evolving from discretionary into more systematic. Basically, discretionary trading is decision-based and systematic trading is rule-based. But there can be a bit overlapping. I see myself somewhere in the middle, where part of my general market analysis is discretionary but specific trading strategies work by systems.
Obviously there are pros and cons to both; like systems have less gut feeling and emotions in it, but need to be adjusted or turned off when changes in the market environment occur. Discretionary needs common sense but should be more stable over a long period of time.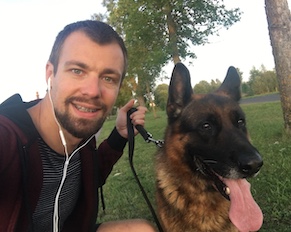 Anyway, back to the podcast. It took me about 3 months to finish all episodes as I am used to listening to 1-2 episodes a day. Usually one during breakfast and another at some physical activity during the day. Some more known names to me interviewed by Andrew are: Kevin Davey, Perry Kaufman, Jerry Parker, Larry Williams, Brett Steenbarger, Michael Cook, Linda Raschke, Adam Grimes, Nick Radge, Jack Schwager, John Carter, Larry Connors. Though the podcast gravitates towards systematic trading, there are actually traders of all styles featured. I can't really sum up the topics as each interview is different, only with some similar starting questions like background and beginning of trading; also some similar finishing questions like best trading advice and book recommendations. Everything in-between of it is original and unique depending on the interviewee.
I have greatly enjoyed Andrew's work. Unfortunately, the last episode is from June 2019 and he hasn't been adding new content to the podcast anymore; you can still listen to all of the previous ones. I am currently listening to a third podcast on trading and will soon write about it, after I've finished a book by the same person and reviewed it here. 😉 Stay tuned!
Edit (October 2020): Andrew has moved to a video format on YouTube and new shows are coming up weekly!
More information at Bettersystemtrader.com
Share this post