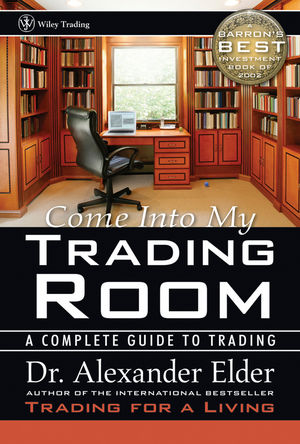 It's another book from Dr. Elder published in 2002. Much of the content overlaps with his other book I already reviewed, but it makes sense as it also reflects the work of Dr. Elder. If you want to know more about his recent writing, check my review on Trading for a Living.
Come into My Trading Room was still an interesting read to me. Dr. Elder covers many indicators there that are not featured in his latest books. His Stop Zone, Elder Ray and different charts make it educational even after having read Trading for a Living.
Overall, much of the content is same, or to say at least similar. Risk management takes into account the 6% account and 2% per trade rules. The three M-s has its place: Mind, Method, Money. It means you need to have psychology (mind), technical edge (method) and risk management (money) in place.
How to be disciplined and organized, how to trade the plan, triple screen system, indicators and much more is covered in this book. He finishes the book with some content about staying in the game and going pro, so you might want to check that out what it takes to be at your best level.
It gives the feeling of an older book but the principles of trading have stand the test of time and studying charts is useful regardless of their age. If you're not a heavy reader you might want to stick to the new Trading for a Living and proceed to other authors. However, Dr. Elder has also workbooks for his readings which all have different exercises and help to really verify one has studied the materials.
Come into My Trading Room by Alexander Elder book link
Share this post