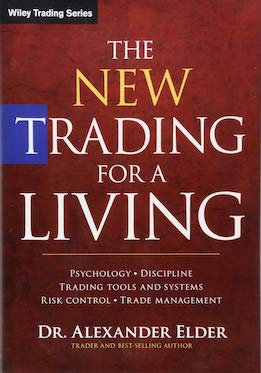 I have finished the book and took a lot of notes. It seems to be a simple book to understand and covers most topics for beginning traders: mass and individual psychology, different markets and instruments to trade, charting and technical analysis, money (risk) management, record keeping etc. I like it as an introductory book to trading and technical analysis.
My main takeaway from this book is Dr. Elder's discretionary counter-trend approach to buy low – sell high type of trading. I like his idea of price oscillating around the value. It reminds the classical saying in Wall Street: "Buy when there's blood in the streets"; also Buffett's idea of the Mr. Market who sometimes is depressed and wants to sell you on a discount, other times being euphoric and offering to buy your stock at an unreasonably high price.
The author writes about classical charting; which chart patterns he trusts more, how to notice trends and trading ranges, support / resistance, trend lines etc.
Dr. Elder goes over the most popular indicators for deciding on trends, momentum, volume; like MACD, RSI, ADX, OBV to name a few. He has some of his own invented indicators like Impulse System and Force Index that seem interesting. I think there's opportunity to use his indicators on determining whether a stock is under- or overvalued.
His "Triple Screen Trading System" makes much sense to look at different timeframes; he suggests being strategic on the weekly chart, tactical on the daily chart and finesse entries / exits on the hourly chart.
Good money management practice by risking no more than 2% of your equity on a single trade and limiting losses in a month to 6% of the equity seems reasonable. The 2% rule takes into account the difference between your entry and protective stop, not the total amount of the position as you will exit before it goes to zero. You can even risk less than 2% on a single trade so with the monthly 6% rule there could be more trades and a bigger sample size.
He puts much emphasis to discipline as on of the key factors for successful trading. The stock market has such a low entry level that anyone can get involved and also there are so many opportunities daily to trade and make money – on the flip side to lose money. This is why you want to think more about discipline.
The author is fond of saying: "Show me a trader with good records and I'll show you a good trader." It means you should always document your trades because being an individual trader you have no other person to look after you than yourself. Therefore, you need to document your charts and decision-making so you can go back later and review it. Then it's possible to understand better what is going right or wrong and draw conclusions.
Some more tips from Dr. Elder not to be greedy with profits and trading only if the signal grabs you by the face, makes me want to study more of his materials. Overall I recommend this book to anyone starting out in trading and want to learn about the topics mentioned above.
Trading for a Living by Alexander Elder book link
Share this post