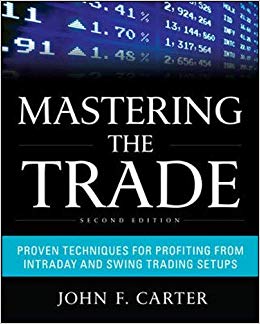 A trader from Latvia recommended this book to me. John F. Carter is a trader, author and educator from the US. I will write a bit about the book and what I think of it.
John Carter first starts the book with his own life experience, how he wanted to become a trader and paid a high tuition fee at first. He sums up all the emotions involved in financial trading pretty well and with a sense of humor. He describes own experience how he wanted to use a little bit of family's money, just to secretly borrow it for a short period of time to say, to win some more money in the stock market and then "put it back". You might already be guessing how this venture ended for him.. 😉
Anyway, after the first hustle and bustle, at some point he managed to start making money in the markets and decided to stay around longer. He is now a professional trader and I follow him on Twitter, much great insights from time to time. He's also been on some trading podcasts talking about one of his most successful trades, shorting TSLA somewhere in 2014 I think.
In his book Mastering the Trade, John covers topics about what makes markets move, psychology among market participants, trader mindset, fears, predictions; but also shares some of his proven techniques for profiting from day-trading and swing trading. I never take any trading methods from a book or a blog to start trading them blindly, but it give ideas to take notes on and backtest your own approach to it.
One interesting strategy the author presents is trading the opening gap. As the Wall Street saying goes: "Amateurs make the openings, pros make the closings." It means retail investors and non-professional traders place their orders before going to work, but the pros in Wall Street are there for the whole day taking advantage of the intraday moves. So there's often morning panic, either positive or negative, and John's method shows how to fade this in the other direction, also referred to as "gap fill". A lot of the price gaps at the open often get filled during the day or the next, so there's opportunity to build a trading system around it.
I'm usually skeptical about trading methods publicly available in a book or a blog as it wouldn't make sense to publish your edge if you want to be using it. So it always rises questions for me if it's still working for the author. One of the indicators John Carter presents in his book is the $TICK which measures how many stocks at the moment are going up or down. I've heard some traders on podcasts saying it doesn't work anymore as it used to due to HFT (High-Frequency Trading) and the algorithms taking over most of the intraday game.
Overall I liked the book and it was a good read to understand how John F. Carter thinks about the markets.
Mastering the Trade by John F. Carter book link
Share this post