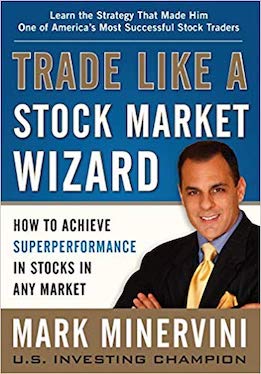 The author, Mark Minervini was featured in the Stock Market Wizards (2001) by Jack D. Schwager. Minervini is doing a lot of self promotion on Twitter, but due to his success and proven records I decided to read his book and see his methods of trading the markets.
Mark Minervini looks for smaller growth stocks which can be unfamiliar names, recent IPOs etc. First strong fundamentals, but the main technical setup is building base on low volatility and contracting volume, then buying the breakout on volume.
He suggests to forget about the money and concentrate on being the best trader you could be, money will follow. Practice does not make perfect, practice makes habitual.
There is a right time and a wrong time to buy stocks. Stocks with super performance potential are identifiable before the big price increase. The goal is not to buy the stock cheap, but to sell it at much significantly higher in shortest time possible.
Five key elements: 1. Trend 2. Fundamentals 3. Catalyst 4. Entry points 5. Exit points
P/E ratio is overused and misunderstood. Most of the growth stocks seldom trade at a low P/E. It should be taken more as a barometer of future expectations – high P/E means high expectations. The P/E ratio doesn't have much predictive value. It's far less important than a company's potential for earnings growth. Value doesn't move stock prices, people do. You need demand to push stock prices higher.
Stock price moves in 4 stages: Consolidation, Accumulation, Distribution, Capitulation. You need to buy in stage 2 when trend is up, moving averages are up, higher highs and higher lows, more volume on rallies than pullbacks.
Look for market leaders in hot industries. Usually 2-3 leaders in a group with sustainable sales growth and beating earnings expectations. Often companies that start making new highs in the end of a bear market will be the new leaders.
Earnings is an important factor that raises interest in a stock. Institutions want to see positive earnings surprises (several qtr's in a row), accelerating earnings and sales growth (several qtr's and even yrs in a row) without deteriorating. Sustainable earnings growth should come from revenue growth not from cutting costs, closing plants or some one time event. Company with higher sales volume with new and existing products in new and existing markets with lower costs and expanding net profit margin is a winning situation. Watch price action after earnings, winners should not have sell-off, they can have pullbacks that are eventually followed by rallies. Guidance is also very important and often move the price even more. Pay attention to inventories and receivables which shouldn't grow faster than sales. A good sign is if earnings, sales, profit margins are accelerating several quarters in a row.
Follow the leaders. Leaders of a new bull market usually start making higher lows while overall market is still making lower lows. Then with the market turn and leaders having breakouts to highs is the time to buy these leaders. Look at 52-week highs. Sometimes industry groups follow the same path with its leaders but often it lags. The market lags the leading groups. Laggards are the last ones and often rally as defensive stocks when the bull market is becoming exhausted (utilities, drugs, staples).
Just as the leaders are the ones to lead the new bull market, they are usually the ones to lead the following bear market by giving up a lot of the gains if not all. You need to get off at the right time. Attention if market is still rallying but leaders exhausted. The leaders of a bull market are not usually leading the next bullish cycle anymore. Most of the times the leading groups and subgroups will be replaced by new ones together with new companies leading a new bull market.
Mark Minervini highlights the importance of cutting losses short and letting winners run. Hanging on to losers is the biggest mistake in trading. Small losses is the part of doing this business.
In conclusion, I liked the book and my initial doubts on the author were proven wrong. I recommend this book to learn trading breakouts.
Trade Like a Stock Market Wizard by Mark Minervini book link
Share this post