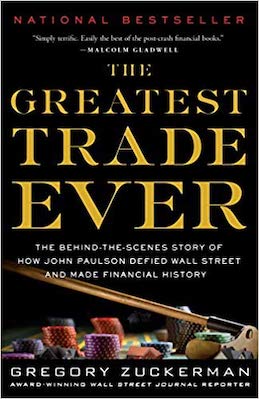 I have seen the movie The Big Short (2015) about the financial crisis of 2008. I was talking about it to Dr. Elder and he recommended to read The Greatest Trade Ever by Gregory Zuckerman so I added it to my reading list.
I'm not swinging to the fences in my own trading or how they say.. going after "home runs". Instead I focus on the longer-term process of having small losses and letting winners run. Though in trend-following trades where you don't exactly limit your potential move, you could end up with a very successful trade, on the flip side such trades need more room to run and can often result in larger drawdowns.
This book is about the financial crisis of 2008 and how John Paulson who had never had any spectacular success in the markets, was betting heavily on the collapse of the US real estate market and the economy in general.
It may seem like a simple task where he shorted the market and was right, but going through the story one can understand what a mental challenge it actually was. There were so many obstacles and issues on the way but in the end he managed to make almost $4 billion and make financial history. There were other people involved who were on the same side of the bet one way or another. But the most interesting for me was that Paulson made his money already in 2007, where in the book they celebrate the victory and success already before the end of that year. Whereas, as we know the defaults started to have heavy impact on the markets in 2008 and the collapse of Lehman Brothers even in the second part of '08.
This is an interesting story told about one of the greatest trades in US financial history. You won't probably benefit much in your own trading by reading this book but it definitely makes you think about how the big boys are swinging for the fences and taking risks in the markets.
The Greatest Trade Ever by Gregory Zuckerman book link
Share this post