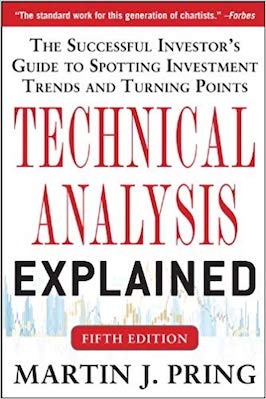 Similar to John Murphy's book about technical analysis, Martin Pring also does a good job on teaching the most classical charting practices, patterns and indicators.
Topics discussed in this book are: trend tools and techniques, market structure, different types of technical analysis, seasonality, cycles etc.
Martin Pring is also a contributor to Stockcharts.com blog where I read his market updates available only to registered members. His work on charts is longer term dating back in years and even decades. So even if my own work is more shorter term oriented, it's interesting to look at the bigger picture understanding what's the trend of the secular market, what the longer-term correlations are between different markets like bonds, commodities, forex and stocks; etc.
He has developed a momentum oscillator KST (Know Sure Thing). It is a smoothed version of the "Rate of Change", but to me already the name of it sounds weird. There are no sure things in trading and to name an indicator like that makes it look like a crystal ball. 🙂
Learning the basics of technical analysis is useful even if you're not going to manually work with charts or want to become a quant trader and program your tools, cause it pays to know how the market moves regardless of your trading style and timeframes.
Technical Analysis Explained by Martin J. Pring book link
Share this post