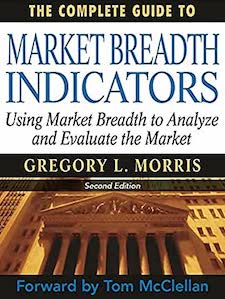 This is a book about market breadth indicators published in 2015 and is the second edition. Gregory L. Morris has done a great job putting together a kind of an encyclopedia. He has been analyzing and researching market breadth for over 20 years. Already in foreword by Tom McClellan there is a good example how the Advance-Decline (A-D) indicator could have been used back in the 1920s, but also in the '50s and '60s to warn about the weakening market conditions.
Every technical analyst could use a couple of market breadth indicators to measure the market strength and underlying conditions. There are obviously too many indicators to use them all, but in my opinion it's more about how you use an indicator than about which one you apply. It's the same with other technical indicators – don't use too many of them or you'll start getting contradictory signals and confuse yourself. It is better to use specific ones consistently than to keep looking for the holy grail. No indicator will predict the future.
Morris first gets into the history of breadth indicators. Even though Charles H. Dow first commented on advancing and declining stocks in 1900, Leonard P. Ayres is being credited as the first one to count the advancing and declining issues in 1926. The author then describes the importance and goals of such analysis. He lists the terminology and tries to make sure readers are aware of key elements before diving into the indicators themselves.
The market breadth indicators are categorized as following:
– Advance Decline Difference
– Advance Decline Ratio
– Advance Decline Miscellaneous
– New Highs New Lows Difference
– High Low Ratio
– High Low Miscellaneous
– Up Volume Down Volume Indicators
– Composite Indicators
– Non-Internal Breadth Indicators
There are more than 50 different indicators introduced and described in this book. In my own work I have found the "New Highs – New Lows" and "Stocks Above the 50-day Moving Average" to be useful. Nevertheless, the single best indicator in my opinion is the price.
This book might not be the one to read from cover to the end in a straight manner, but instead have it on the shelf to do research on different market breadth indicators from time to time.
Market Breadth Indicators by Gregory L. Morris book link
Share this post