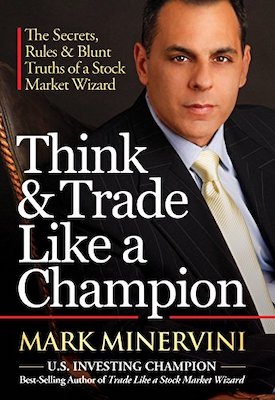 This is the second book from Mark Minervini, one of the America's top traders who was featured in the Stock Market Wizards book by Jack Schwager. Think & Trade Like a Champion was published in 2017.
What is this book about?
Have a plan. Take trading as a process. Institutional buying happens on rallies with increased volume for multiple days. Approach every trade risk-first. Taking partial profits on half is "win/win", either way the price goes, you did it right with the half.
Never double down on a position or buy a "cheap" stock that has rapidly decreased in price – don't throw good money after bad, just cut your loss. Always buy when stock is in uptrend. It's not about "buy low, sell high" but it is "buy high, sell higher".
VCP (Volatility Contraction Pattern) is a characteristic where volatility contracts in forming a base and volume recedes. Usually there are 3-4 swings with narrowing price action (depth and width) first. Wait for confirmation, a breakout of the base to go long.
Most constructive setups correct 10-35%, sometimes up to 40%. Generally you want to avoid stocks that correct 50-60% or more and 2,5-3 times more than the market, there's too much supply and it'll probably have overhead resistance.
Big winners must make new highs. Leaders bottom first before the general market. Relative strength (stock/SPX) often diverges before the stock starts a rally. Lockout rally – if the market ignores overbought condition after bear market or correction and the list of leaders expands, it's a sign of strength. It's best to find big winners during the start of a new bull market, it's more prone to failure in late bull cycle.
Having a STP in place you are a weak holder but you need to be further away from most weak holders. Don't risk more than 1,25 – 2,5% of equity per trade. Having 4-6 positions is good to manage, up to 10 but no more. Never put large part of equity in one position.
Diversification takes super performance off, better concentrate on the few you need to manage to get big winners. Selling into strength or weakness – according to the plan. Institutions usually sell into strength to give stock to weak holders.
If P/E expands a lot (doubles) during a rally, it means the price has increased more rapidly than earnings. The Climax Top is when after several months of advance the price rallies at a faster pace and steeper angle in a short period of time, it's time to sell.
Make big money when you're correct, avoid big drawdowns when you're wrong! Have a healthy and happy life overall. Habits, exercise, mental training. Make taking a small loss a happy thing. Don't let TV and news influence trading decisions.
Think & Trade Like a Champion by Mark Minervini book link
Share this post